Hemp Butter
Open media in modal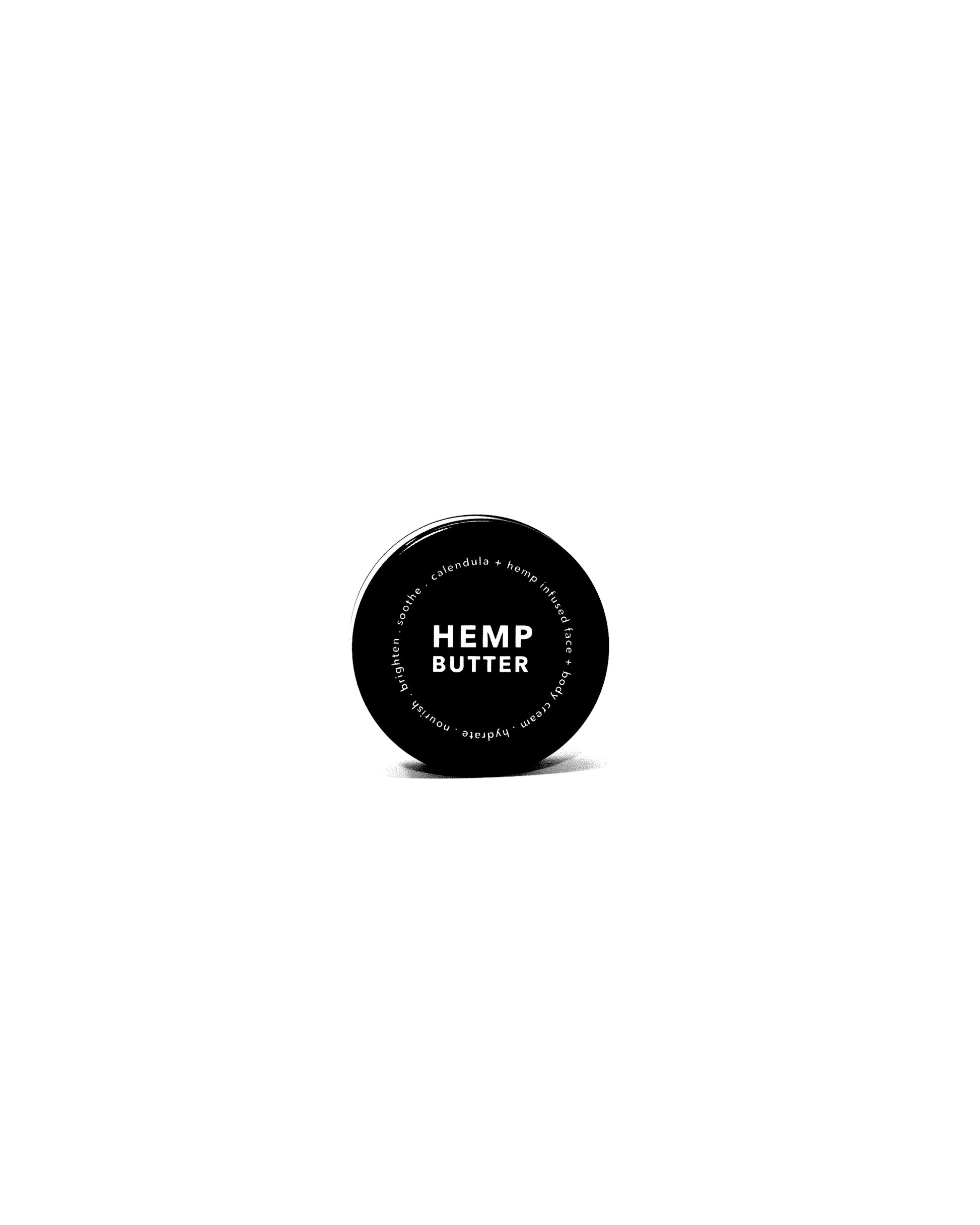 Open media in modal
Open media in modal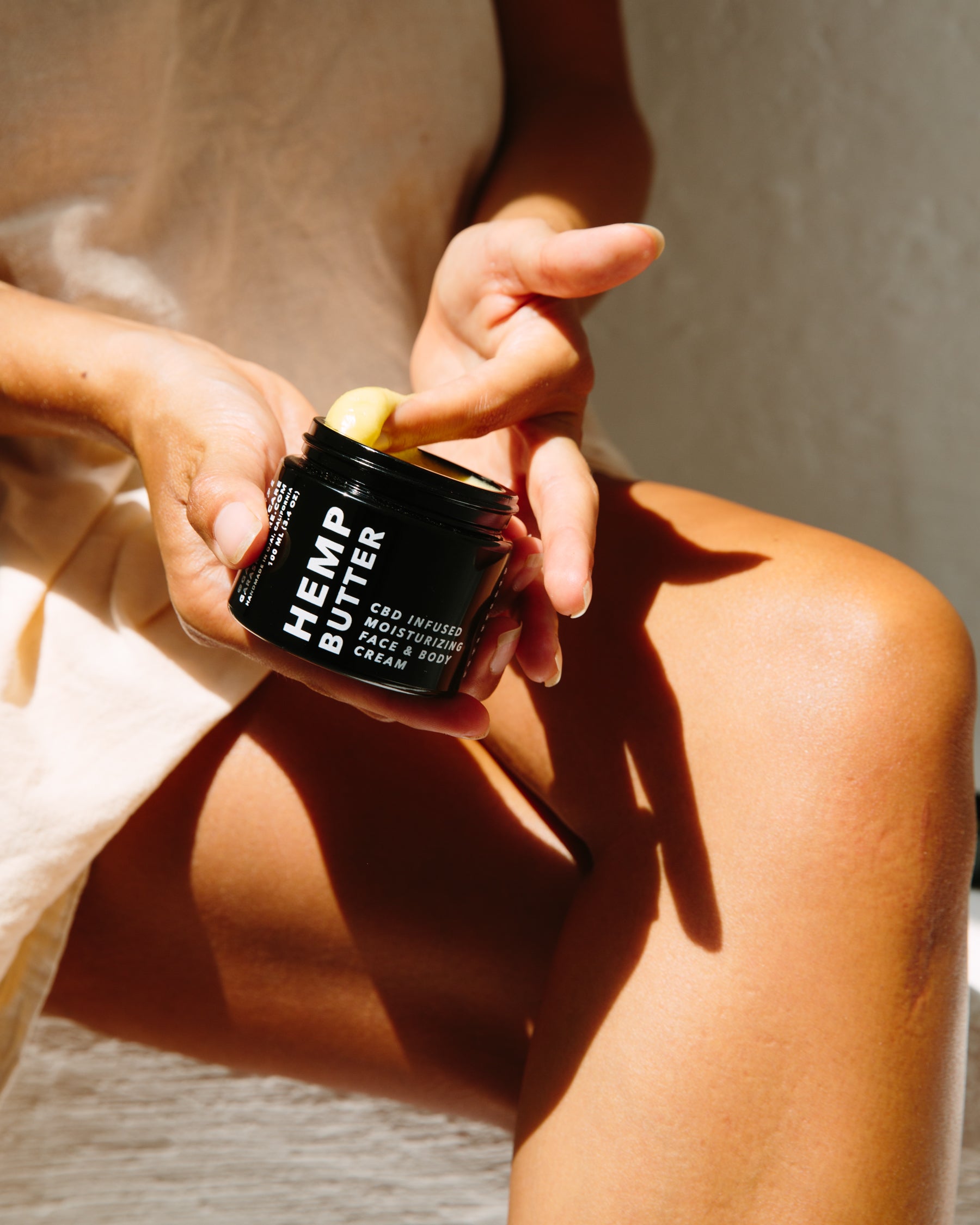 Open media in modal
Open media in modal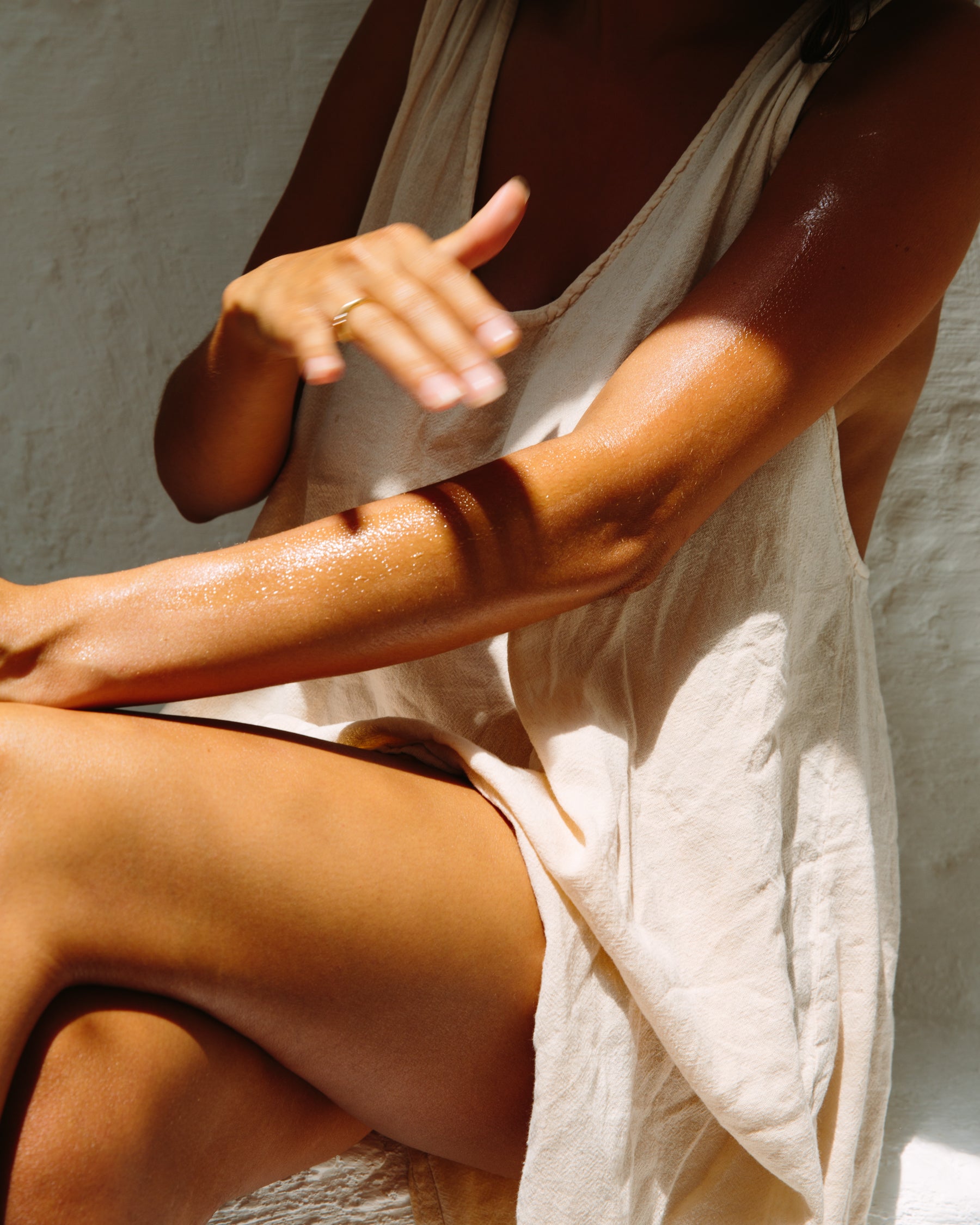 1
5
Formulated for all skin types, this rich body butter quickly soaks into the skin to provide ultimate hydration and soothe troublesome skin ailments. With many applications, this product can be used daily as a face and body cream, scalp treatment, eye cream or hair styling balm. Its deep, calming aroma softens the mind and body, enriching your daily self care ritual.
HOW TO USE
To unlock its full potential, warm a pea-sized amount in the palm of your hand. Inhale its earth sweet aroma and feel your mind and body relax. Apply a thin layer of the Hemp Butter to your freshly washed face, neck, and body.
PROTIP:
A light application of this butter after misting with
hydrosol
amplifies moisture absorption and encourages natural skin cell regeneration and repair. This extra step leaves the skin feeling silky smooth and extends the life of your jar.
SCARS TISSUE
The Hemp Butter can be helpful for soothing scar tissue and lightening the appearance of scars. Apply a small amount to the affected area and gently massage for 5-10 minutes daily. For particularly deep or troublesome scars, eczema, or psoriasis follow the light massage with another application of the Hemp Butter and cover with a bandage. Repeat as needed until desired effect is achieved.
EYE TREATMENT
Apply a thin layer of the Hemp Butter around the eyes and lips as a concentrated night treatment. This nourishing balm smoothes fine lines and improves overall complexion.
HAIR + SCALP
With clean fingertips, lightly apply a small amount to the scalp to soothe dandruff, rashes, eczema and psoriasis. Massage for 5-10 minutes to stimulate blood flow and restoration. You can also use this butter as a hair styling balm or overnight hair treatment.
HAND + FOOT MASSAGE
Apply liberally to hands and feet for a self massage before bed. You will wake up refreshed and renewed.
HEROIC HERBSHemp CBD
Cannabis Sativa
Cannabis is known for its soothing properties, making it ideal for calming irritated and sensitive skin. It can alleviate redness and discomfort, providing relief for conditions like eczema and psoriasis. Additionally, CBD's capacity to regulate sebum production can help balance oily skin, contributing to a more consistent and harmonious complexion.
Calendula
Calendula officinalis
Rich in carotenoids, vitamins A and E, and linoleic acid, this aromatic flower boasts natural antibacterial and anti-inflammatory properties. It's our go-to for soothing a variety of skin concerns, from infections to scar tissue.
Frankincense
Boswellia carteri
This precious essential oil is a central component we cherish for its rejuvenating and toning properties, promoting a smooth complexion and a healthy, natural glow. Beyond its skincare benefits, this aromatic resin has been treasured for millennia as a spiritual and mental aid, renowned for its ability to induce a sense of serenity and tranquility.
Helichrysum
Helichrysum italicum
This remarkable plant is renowned for its ability to accelerate wound healing and minimize scars. It contains compounds that exhibit anti-inflammatory and antioxidant properties, which play a pivotal role in tissue repair and regeneration.
Cedarwood
Cedrus atlantica
Known for its calming and grounding properties, cedarwood oil helps to soothe and balance the skin, making it a valuable ally in our formulations. This essential oil is also recognized for its astringent qualities, which can assist in promoting skin firmness and addressing issues such as acne and excess oil.
INGREDIENTS
Raw Shea Butter, Coconut Oil*, Castor Oil*, Hempseed Oil*, Almond Oil*, Jojoba Oil*, Calendula*, Olive Oil*, Full spectrum Hemp Oil (200+ mg CBD derived from Hemp), Turmeric*, Frankincense*, Patchouli*, Vetiver*, Fir Needle*, Palmarosa*, Cedarwood*, Helichrysum*, Vitamin E (non-GMO)
*indicates Certified Organic
Ingredients not certified organic are, however, grown and processed organically. For a deeper dive into our ingredient sourcing and processing, explore our Ingredients Guide
here
.
0.5oz (15ml)
3.4oz (200ml)
PRODUCT LIFE

We are committed to creating products made with organic, unrefined ingredients, free from synthetic preservatives or harmful chemicals. To ensure the utmost freshness and efficacy, we recommend consuming our products within six months of opening.

Store your GARA products in a cool, dry place, away from direct sunlight or prolonged exposure to heat to maintain potency. 

Visit our FAQ page for more product information.
SHIPPING + RETURNS

Each product is lovingly handmade, crafted with care and attention to detail. As a result of this meticulous process, we do not accept returns or provide refunds unless the item is damaged or defective upon arrival. Our primary goal is to ensure your satisfaction with both your experience and your purchase.

If you have any questions or concerns about your items upon receiving them, please reach out to us at info@garaskincare.com. We are here to address any queries and provide assistance.

View all of our policies here.
CERTIFICATE OF ANALYSIS

To request a current COA, please send us an email info@garaskincare.com

For more resources, view our Hemp Guide here.
WANT TO LEARN MORE?

Explore our ever expanding Journal here. We cover a wide range of topics from CBD to hydrosols, aromatherapy to rituals, you may find something interesting and unexpected.

Need help? Please feel free to reach out! We would be happy to make a product recommendation or answer any question you may have.

You can send us an email directly hello@garaskincare.com or send us a message on our website here.
What is CBD?

Cannabidiol (CBD) is the second most-prominent cannabinoid found in the plant and is generally considered to be non-psychoactive.

You can learn more about CBD here.
How does CBD work?

Cannabinoids like CBD interact with the body's endocannabinoid system (ECS), a complex regulatory system involved in maintaining physiological balance and homeostasis. 

You can learn more about the ECS here.
How do I know what dose is right for me?

Finding the optimal CBD dosage is a deeply individualized journey, emphasizing the importance of attuning to your body's unique signals. Each person has a unique endocannabinoid system (ECS) that responds differently to cannabinoids like CBD. To navigate this path effectively, we've created an easy guide to finding the right dose here.