Calm + Soothe Bundle
Open media in modal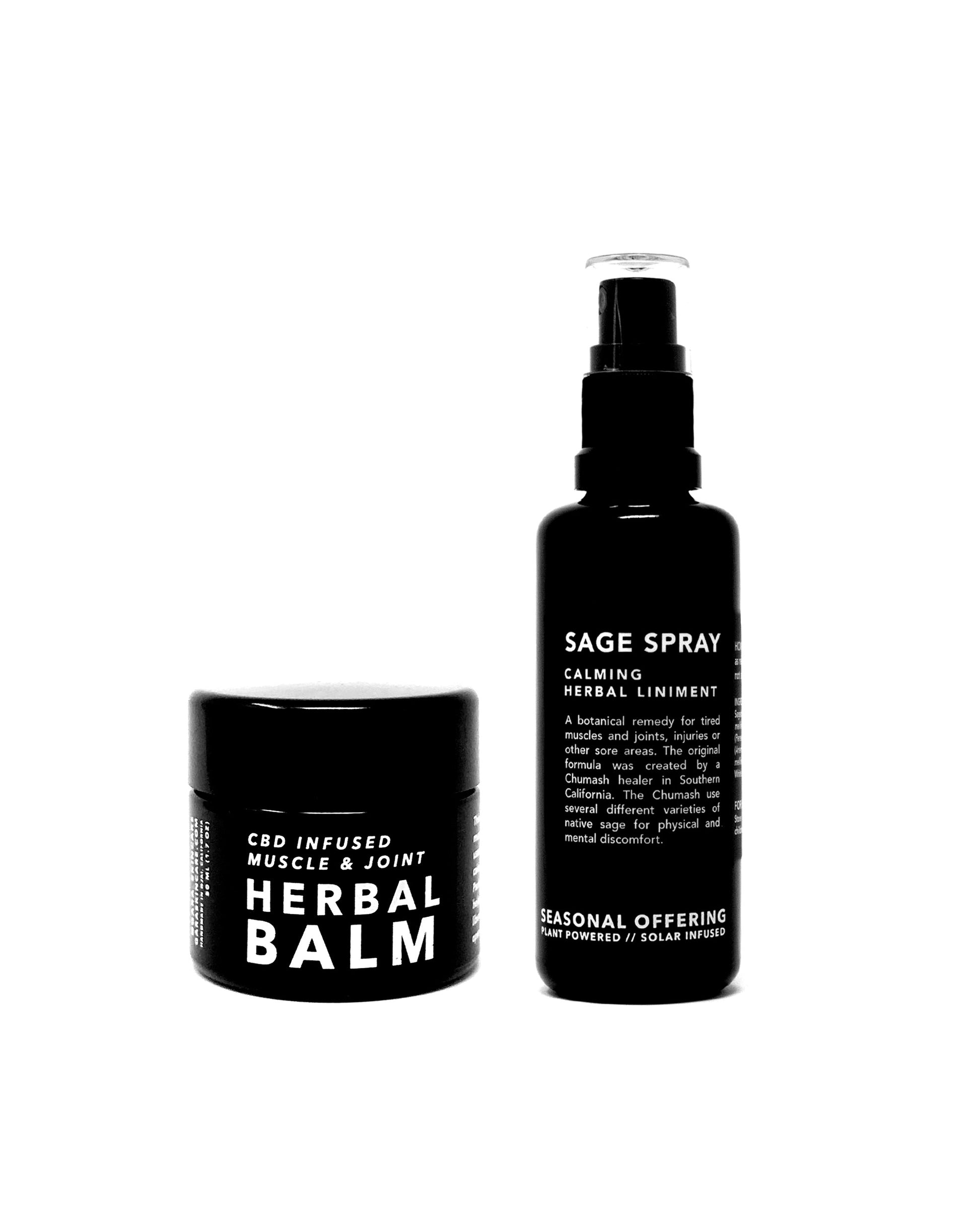 Open media in modal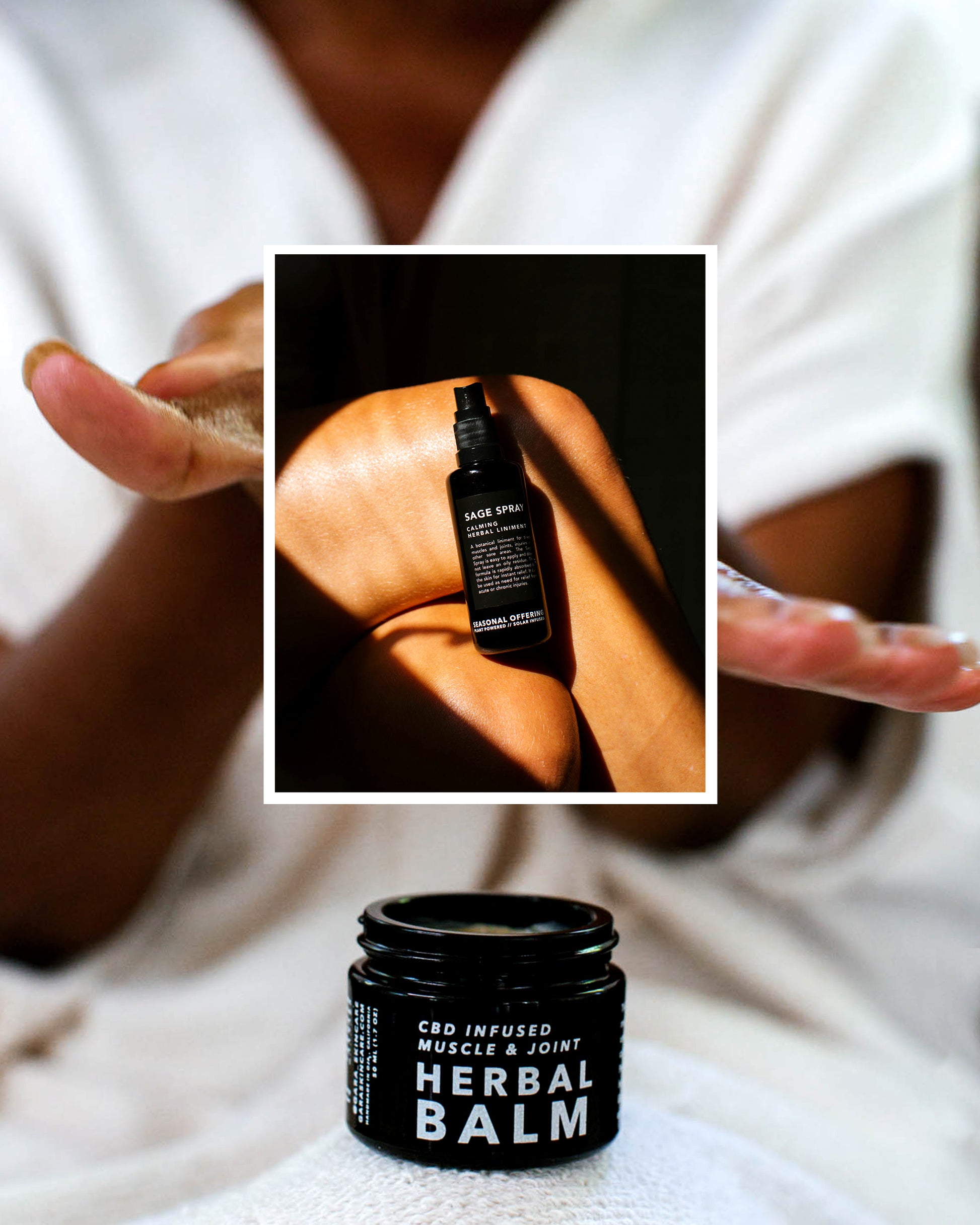 Open media in modal
Open media in modal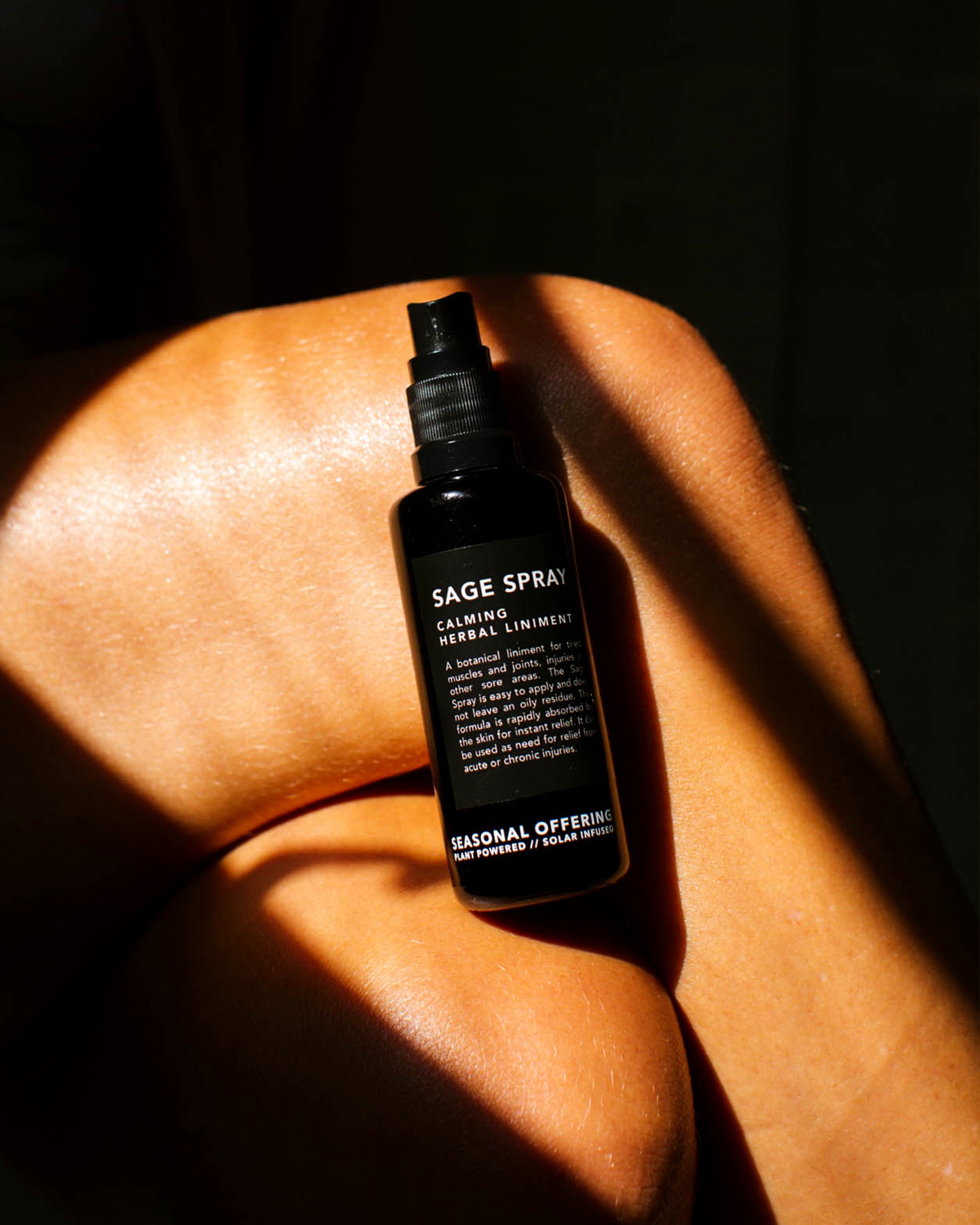 Open media in modal
1
5
Muscle aches, joint pain and injuries can persist for weeks while the body is in a healing phase. The combination of the Herbal Balm and Sage Spray works on a deeper level, providing immediate physical and emotional relief which helps support your body in a time of restoration and repair.


WHAT'S INCLUDED
2oz Herbal Balm
1.7oz Sage Spray


WHY WE LOVE THEM

Easy to use, this duo provides long-lasting relief
Can be used for chronic or acute painful ailments
Eases tension and promotes muscle relaxation
Great for targeting problematic areas such as the hands, knees, elbows, back and neck


THE CALM + SOOTHE RITUAL
Shake the bottle of Sage Spray with intention before use. Liberally spray affected areas. Gently massage and let dry before applying a small amount of Herbal Balm. This balm not only hydrates and nourishes the skin but also contains calming herbs like hemp, comfrey, and arnica for enduring relief, promoting better mobility and an elevated mood.

Do not apply to open wounds. May stain clothing. For topical use only. Store in a cool, dry place. Do not expose to direct sunlight or heat. Discontinue use if irritation occurs. Keep out of reach of children.

Read more about the Calm + Soothe Bundle in our Journal


INGREDIENTS
Sage Spray: Pharmaceutical-grade Alcohol, California Sagebrush (Artemesia californica), Black Sage (Salvia mellifera), Hemp (Cannabis sativa) extract (200+mg CBD derived from hemp), Avocado (Persea americana) seeds, California Sagebrush (Artemesia californica) hydrosol, Black Sage (Salvia mellifera) hydrosol, Hemp (Cannabis sativa) hydrosol, White Sage (Salvia apiana)

Herbal Balm: Raw Kokum Butter, Shea Butter, Beeswax, Coconut Oil*, Castor Oil*, Hempseed Oil*, Arnica*, Comfrey*, Calendula*, White Willow Bark*, Olive Oil*, Full-spectrum Hemp Oil (100+ mg CBD derived from hemp), Turmeric*, White Camphor, Lavender*, Cedarwood*, Fir Needle*, Rosemary*, Helichrysum*, Rose Geranium*, Vitamin E (non-GMO)

* indicates Certified Organic
Ingredients not certified organic are, however, grown and processed organically. For a deeper dive into our ingredient sourcing and processing, explore our Ingredients Guide here.
Learn more about the Sage Spray
Learn more about the Herbal Balm
PRODUCT LIFE

We are committed to creating products made with organic, unrefined ingredients, free from synthetic preservatives or harmful chemicals. To ensure the utmost freshness and efficacy, we recommend consuming our products within six months of opening.

Store your GARA products in a cool, dry place, away from direct sunlight or prolonged exposure to heat to maintain potency. 

Visit our FAQ page for more product information.
SHIPPING + RETURNS

Each product is lovingly handmade, crafted with care and attention to detail. As a result of this meticulous process, we do not accept returns or provide refunds unless the item is damaged or defective upon arrival. Our primary goal is to ensure your satisfaction with both your experience and your purchase.

If you have any questions or concerns about your items upon receiving them, please reach out to us at info@garaskincare.com. We are here to address any queries and provide assistance.

View all of our policies here.
CERTIFICATE OF ANALYSIS

To request a current COA, please send us an email info@garaskincare.com

For more resources, view our Hemp Guide here.
WANT TO LEARN MORE?

Explore our ever expanding Journal here. We cover a wide range of topics from CBD to hydrosols, aromatherapy to rituals, you may find something interesting and unexpected.

Need help? Please feel free to reach out! We would be happy to make a product recommendation or answer any question you may have.

You can send us an email directly hello@garaskincare.com or send us a message on our website here.
What is CBD?

Cannabidiol (CBD) is the second most-prominent cannabinoid found in the plant and is generally considered to be non-psychoactive.

You can learn more about CBD here.
How does CBD work?

Cannabinoids like CBD interact with the body's endocannabinoid system (ECS), a complex regulatory system involved in maintaining physiological balance and homeostasis. 

You can learn more about the ECS here.
How do I know what dose is right for me?

Finding the optimal CBD dosage is a deeply individualized journey, emphasizing the importance of attuning to your body's unique signals. Each person has a unique endocannabinoid system (ECS) that responds differently to cannabinoids like CBD. To navigate this path effectively, we've created an easy guide to finding the right dose here.