Herbal Balm
Open media in modal
Open media in modal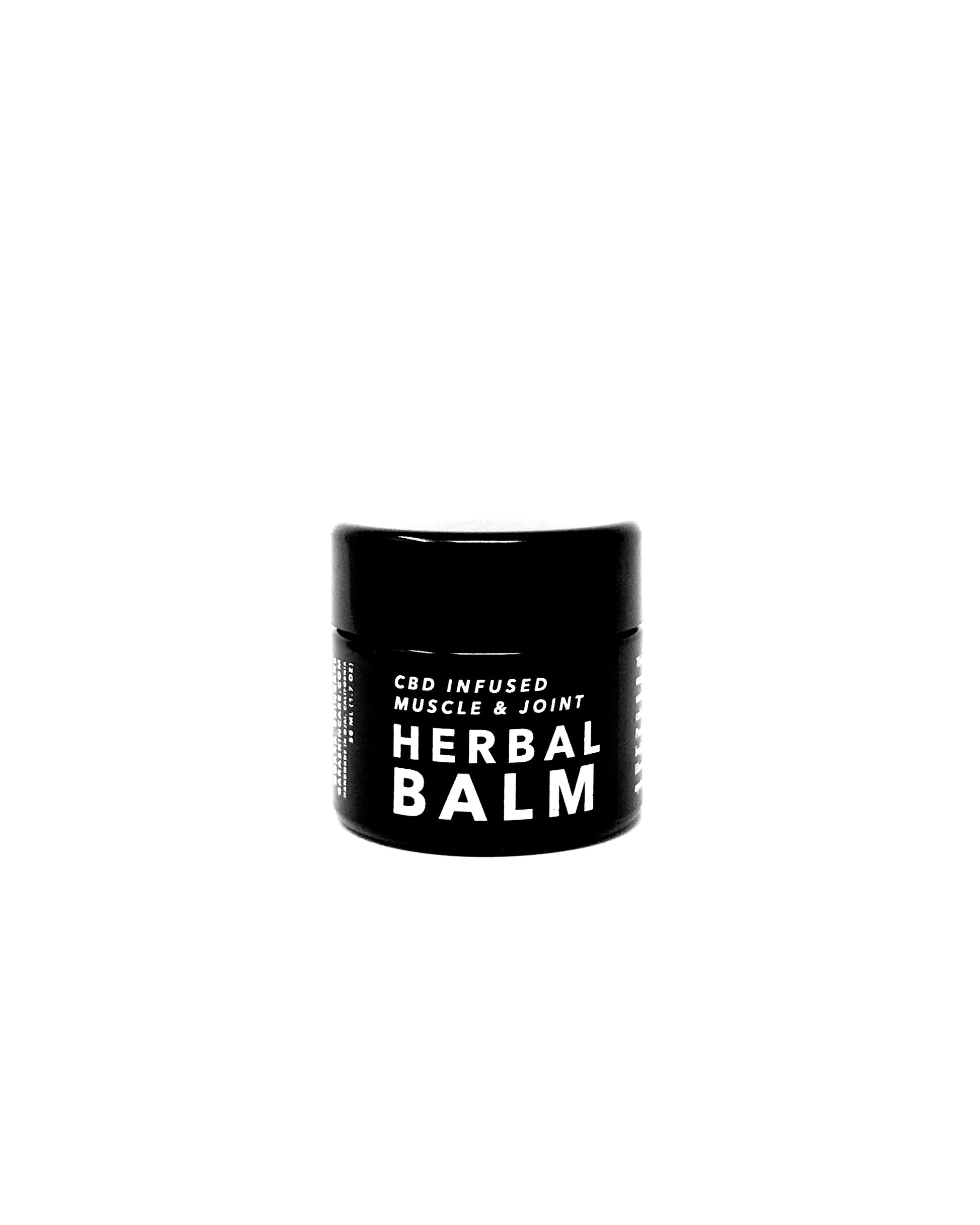 Open media in modal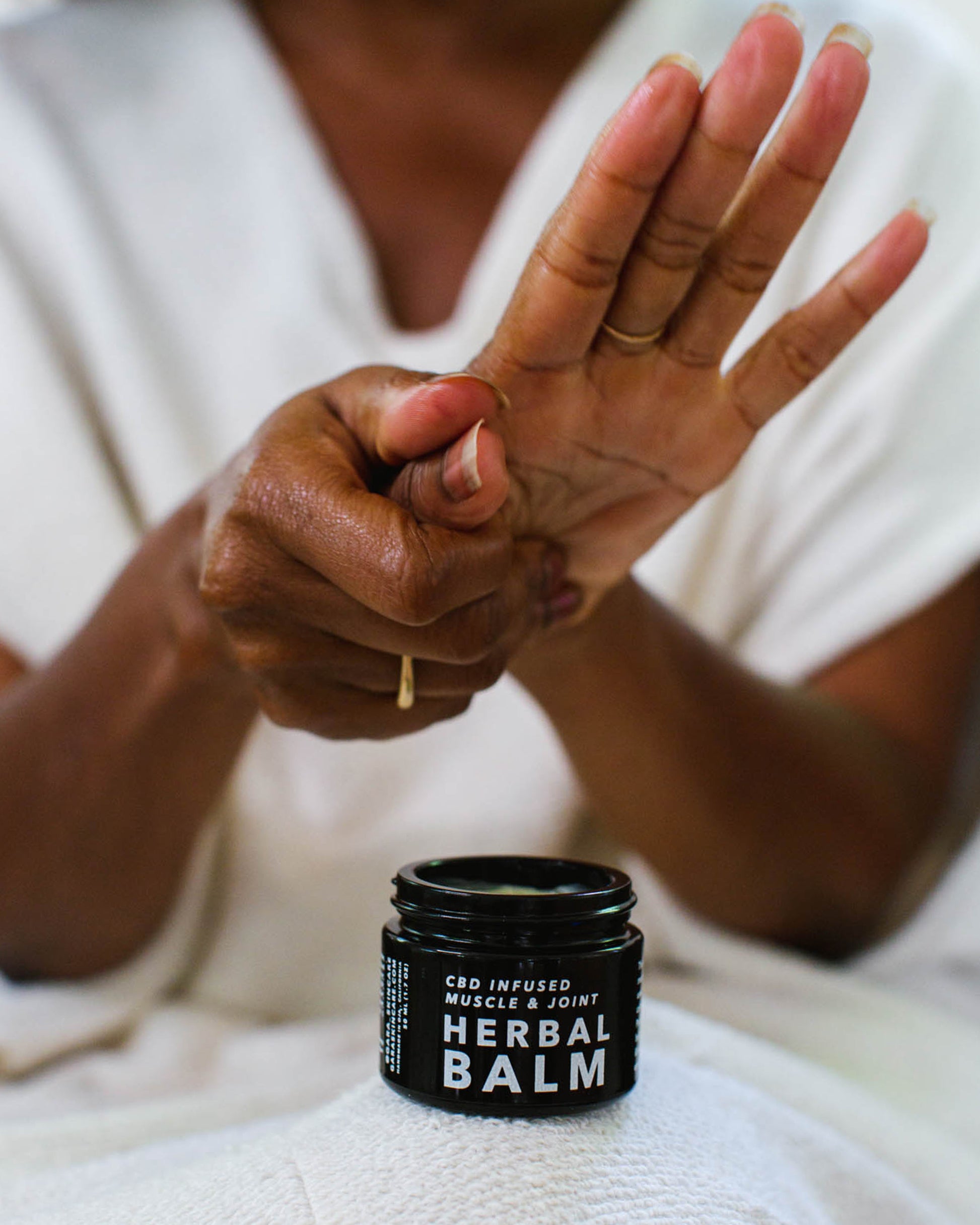 Open media in modal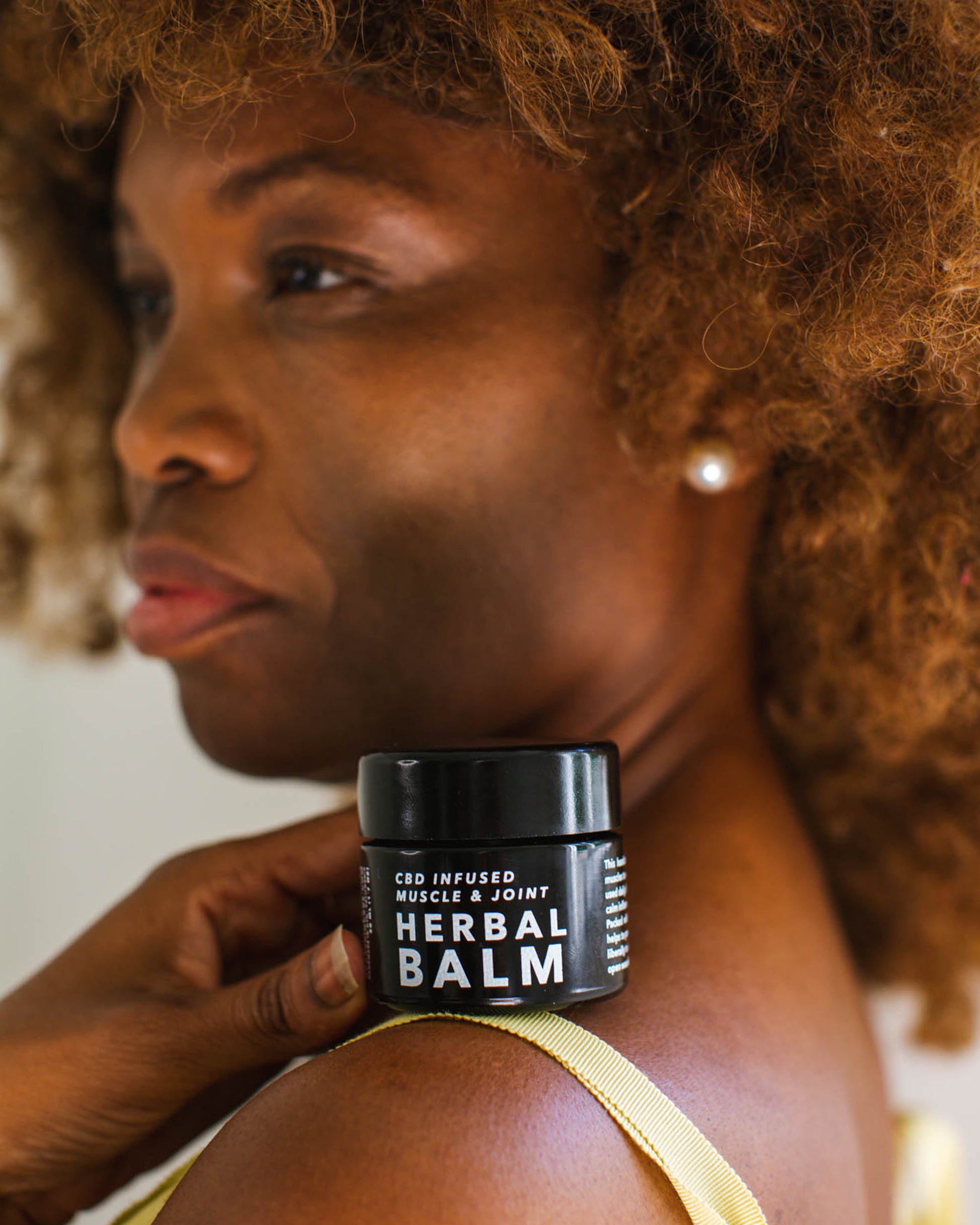 Open media in modal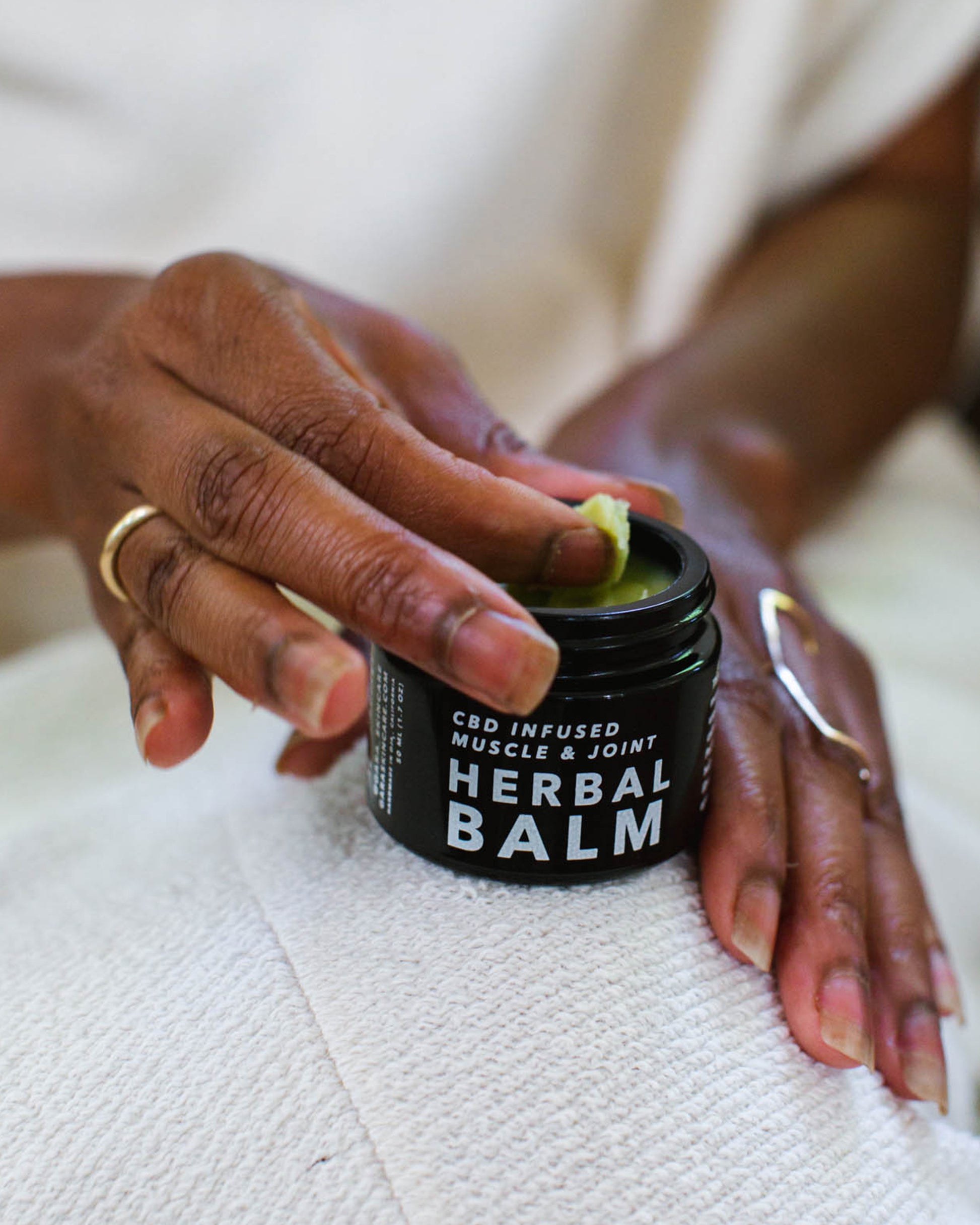 1
5
The Herbal Balm is a topical formula designed to showcase soothing and calming herbs such as hemp, comfrey, arnica and lavender. It can be used daily to ease muscle tension and promote both mental and physical relaxation. The balanced sweet-floral, earthy aroma of the Herbal Balm brings one back to center, slowing mind chatter and evoking a sense of calming awareness. It is useful for targeting specific areas such as the hands, knees, elbows, back and neck for instant localized relief. Any ache that ails you, this balm is the antidote.
HOW TO USE
Warm a pea-sized amount in the palm of your hand. Inhale its aroma and begin to feel your mind and body relaxing. Apply liberally to affected areas several times per day. Avoid application on or near open wounds. Keep out of reach of children.
PROTIP:
The Herbal Balm is useful for targeting specific areas such as the hands, knees, elbows, feet, back and neck. Gently massage for 10-15 minutes after application for enhanced absorption and immediate relief.
HEROIC HERBSMexican Arnica
Heterotheca inuloides
This flower has been used in traditional remedies throughout Mexico and Central America as a topical remedy for bruises, sprains, rheumatism, varicose veins and arthritis for hundreds of years. The active compounds in Mexican arnica have anti-inflammatory and pain-relieving properties making it an excellent ally for soothing achy muscles and joints.
Comfrey
Symphytum officinale
This medicinal plant has been harvested and used as a traditional treatment for bruising, inflammation, joint pain and muscle strain for more than 2,000 years in Japan. The roots and leaves are dried and solar infused in organic olive oil for up to six weeks.
Hemp CBD
Cannabis Sativa
CBD derived from cannabis interacts with the body's endocannabinoid system (ECS), a complex network of receptors and neurotransmitters responsible for regulating various physiological processes, including pain perception. The ECS plays a crucial role in maintaining balance, or homeostasis, within the body which is why cannabinoids like CBD show many promising health benefits. Studies have shown that applying CBD topically can help reduce pain and inflammation in specific areas.
Rosemary
Rosmarinus officinalis
Rosemary essential oil contains a special compound called rosmarinic acid, which has been shown to reduce inflammation and stimulate tissue regeneration, thereby aiding in the healing process. Some studies suggest that rosemary may contribute to scar reduction by promoting the growth of healthy skin cells.
Castor Oil
Ricinus communis
Castor oil boasts ricinoleic acid, an unsaturated omega-9 fatty acid, which aids in enhancing lymphatic detoxification, boosting circulation, and supporting skin regeneration. Notably, castor oil showcases a remarkable array of qualities, including anti-inflammatory, antioxidant, antimicrobial, and antibacterial properties. Acting as a protective shield, it not only fortifies the skin but also facilitates the transportation of essential nutrients and vitamins into the deeper dermal layers.
INGREDIENTS
Raw Kokum Butter, Shea Butter, Beeswax, Coconut Oil*, Castor Oil*, Hempseed Oil*, Arnica*, Comfrey*, Calendula*, White Willow Bark*, Olive Oil*, Full-spectrum Hemp Oil (100+mg CBD derived from hemp), Turmeric*, White Camphor, Lavender*, Cedarwood*, Fir Needle*, Rosemary*, Helichrysum*, Rose Geranium*, Vitamin E (non-GMO)
*indicates Certified Organic
Ingredients not certified organic are, however, grown and processed organically. For a deeper dive into our ingredient sourcing and processing, explore our Ingredients Guide
here
.
PRODUCT LIFE

We are committed to creating products made with organic, unrefined ingredients, free from synthetic preservatives or harmful chemicals. To ensure the utmost freshness and efficacy, we recommend consuming our products within six months of opening.

Store your GARA products in a cool, dry place, away from direct sunlight or prolonged exposure to heat to maintain potency. 

Visit our FAQ page for more product information.
SHIPPING + RETURNS

Each product is lovingly handmade, crafted with care and attention to detail. As a result of this meticulous process, we do not accept returns or provide refunds unless the item is damaged or defective upon arrival. Our primary goal is to ensure your satisfaction with both your experience and your purchase.

If you have any questions or concerns about your items upon receiving them, please reach out to us at info@garaskincare.com. We are here to address any queries and provide assistance.

View all of our policies here.
CERTIFICATE OF ANALYSIS

To request a current COA, please send us an email info@garaskincare.com

For more resources, view our Hemp Guide here.
WANT TO LEARN MORE?

Explore our ever expanding Journal here. We cover a wide range of topics from CBD to hydrosols, aromatherapy to rituals, you may find something interesting and unexpected.

Need help? Please feel free to reach out! We would be happy to make a product recommendation or answer any question you may have.

You can send us an email directly hello@garaskincare.com or send us a message on our website here.
What is CBD?

Cannabidiol (CBD) is the second most-prominent cannabinoid found in the plant and is generally considered to be non-psychoactive.

You can learn more about CBD here.
How does CBD work?

Cannabinoids like CBD interact with the body's endocannabinoid system (ECS), a complex regulatory system involved in maintaining physiological balance and homeostasis. 

You can learn more about the ECS here.
How do I know what dose is right for me?

Finding the optimal CBD dosage is a deeply individualized journey, emphasizing the importance of attuning to your body's unique signals. Each person has a unique endocannabinoid system (ECS) that responds differently to cannabinoids like CBD. To navigate this path effectively, we've created an easy guide to finding the right dose here.